Do you groom from your own home or own your own grooming salon? Are you a mobile groomer, or a contract groomer working in  someone else's salon? We know how important pet safety is to you. PROfur is engaged in our industry and are committed to creating the right coverage for you.
Dog and cat groomers need specialized insurance to protect against the professional liability risks of grooming and the expenses resulting from the accidental injury or loss of the dogs themselves while they're in your care. Getting comprehensive coverage is simple with PROfur. We make it easy to get a customized, cost-effective PROfur insurance policy that does a complete job of covering your dog or cat grooming business. It's pet grooming insurance specifically designed just for groomers.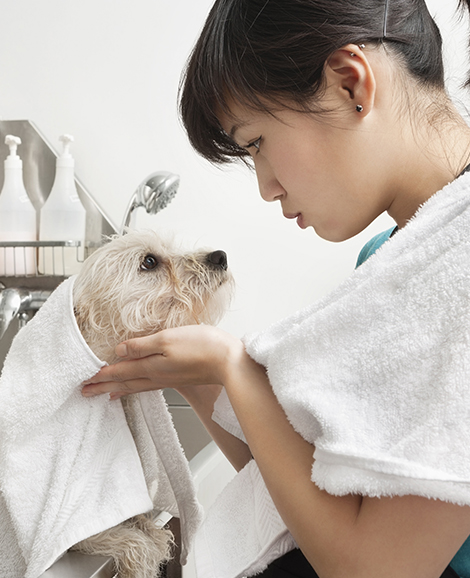 PROfur Pet Grooming insurance includes coverage for:
Grooming dogs, cats and incidental grooming of rabbits and guinea pigs
Bathing, Drying, Brushing
Hair Cutting/Styling
Nail Clipping
Coat Colouring/Dying
Mobile grooming – in your van, trailer or a customers home (this policy does not cover the vehicle itself – you still need your auto insurance policy)
Expressing Anal Glands
Ear & Eye Cleaning
Teeth brushing (excludes scaling, polishing or other dental hygiene services)
Merchandise Retailing
Pickup & drop-off services (pet taxi) – dogs are covered while in the vehicle (this policy does not cover the vehicle itself – you still need your auto insurance policy)
Coverage Extensions Are Available for:
Independent Contractors working for you
Pet First Aid Trainers Insurance
Prior training and experience as a pet groomer
Highly recommend using a pet health & behaviour intake form, and a consent or waiver form especially for matted and senior dogs & cats
PROfur Masterplan Key Coverages
Protects against lawsuits alleging your service or advice caused injury or loss to a pet.
Protects against accidental injury to others, including pets, or accidental property damage. For example, this is designed to defend you if you are sued for negligence after a customer slips and falls in your grooming salon, or if something were to fall and injure a pet in your care.
**All coverages are subject to the limits of insurance purchased and the usual Terms, Conditions, Exclusions and Warranties of the underwriter, Intact Insurance. Deductibles may apply to some of the listed coverages. More detailed coverage information will be provided with your quote.
See real life examples of how PROfur can protect Pet Grooming business owners.