Dog Daycare Insurance
(Caring for dogs at your facility)
If you own your own dog daycare business caring for dogs at your location, you're in the right place! If you care for dogs or other pets in their own home, we cover that under Pet Sitting. We know that your focus is on providing a fun, safe experience for your guests. PROfur can provide a protection plan for every day so that you can take care of your business knowing that your business and the dogs in your care are protected should there be an accident.
Managing a lot of dogs, with many different breeds and varying degrees of behavior in one place, at the same time, requires specialized knowledge. It also requires specialized dog daycare insurance to protect you against the liability of accidental injury or loss of the pets themselves while they're in your care or protecting yourself against professional liability should you provide pet care instruction or advice to your clients. We too have specialized knowledge and have used it to make it easy for you to get a customized, cost-effective PROfur insurance policy that does a complete job of covering your pet daycare business. It is specifically designed to meet the needs of your dog daycare business. It covers liability, care of animals and property.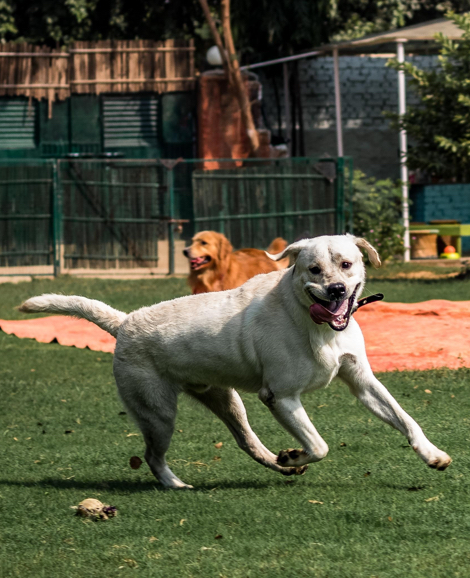 Here are the dog daycare services we can cover for you:
Indoor/outdoor play areas, runs & suites
Playgroups
Facility or owner supplied food & treats
Dog walking for exercise & washroom breaks
Merchandise Retailing
Pickup & drop-off services (pet taxi) – dogs are covered while in the vehicle (this policy does not cover the vehicle itself – you still need your auto insurance policy)
Administering medication as directed by the pet owner or vet
Coverage Extensions Are Available for:
Dogs must have curent vaccinations for rabies and DHPP
Maximum of 15 dogs per supervising attendant
Maximum number of pets must not exceed the number permitted by your business license (if you're required to be licensed) or local by-laws (if any apply)
Dogs can only be off-leash outdoors if they are in a securely fenced yard or sanctioned public off-leash area
Keep a record of any behaviour and medical issues declared by each pet owner
Use a consent or waiver form with each pet owner
*excluding choker collars, products repackaged or re-labeled by you, hardware or food/treats that are manufactured or modified by you.
If you provide more than one service, visit the Multi-Service Pet Care page.
PROfur Masterplan Key Coverages
Protects against lawsuits alleging your service or advice caused injury or loss to a pet.
Protects against accidental injury to others, including pets, or accidental property damage. For example, this is designed to defend you if you are sued for negligence after a customer slips and falls in your daycare, or if something were to fall and injure a pet in your care.
**All coverages are subject to the limits of insurance purchased and the usual Terms, Conditions, Exclusions and Warranties of the underwriter, Intact Insurance. Deductibles may apply to some of the listed coverages. More detailed coverage information will be provided with your quote.
See real life examples of how PROfur can protect Dog Daycare business owners.